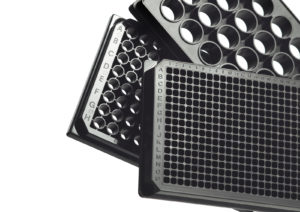 VisionPlates™ are our best plates for your most advanced applications. When visualising fluorescent signals from anything between a single molecule to a whole cell, VisionPlates™ will give accurate and consistent results.
Suitable for cell-bases high content screening (HCS), conical microscopy, FRET and homogeneous assays, results show an optimum signal-to-noise ratio and a high consistency essential for automated high throughput.
Using state of the art technology 4titude® have developed a product which offers key advantages to the end user.
FrameStar® PCR plates are covered by one or more of the following U.S. patents or their foreign counterparts, owned by Eppendorf AG: US patent Nos. 7,347,977 and 6,340,589
| | | | |
| --- | --- | --- | --- |
| Product Code | Product Name | Product Marketing Description | 2022/23 List |
| 4ti-0201 | ASSY,4TI-0204/4TI-0280,TC,ST,24CA | Optically Clear Tissue Culture Plate, 384 well, tissue culture treated, sterile, with lid, 190um clear base, black frame, 24 plates and lids per case | 373.00 |
| 4ti-0203 | ASSY,PLATE,VP,384WL,BLKFR,CL-BTM,190UM,ST,30CA | Optically Clear Tissue Culture Plate, 384 well, sterile, 190um clear base, black frame, 30 plates per case | 208.00 |
| 4ti-0204 | ASSY,PLATE,VP,384WL,BLKFR,CL-BTM,190UM,30CA | Optically Clear Tissue Culture Plate, 384 well, 190um clear base, black frame, 30 plates per case | 195.50 |
| 4ti-0214 | PLATE,UVP,384WL,BLKFR,ULTRACLEAR UV-B,30CA | Ultra Optically Clear Plate, 384 welll, clear base, black frame, 30 plates per case | 654.00 |
| 4ti-0221 | ASSY,4TI-0224/4TI-0280,TC,ST,24CA | Optically Clear Tissue Culture Plate, 96 well, tissue culture treated, sterile, with lid, 190um clear base, black frame, 24 plates and lids per case | 373.00 |
| 4ti-0223 | ASSY,PLATE,VP,96WL,BLKFR,CL-BTM,190UM,ST,30CA | Optically Clear Tissue Culture Plate, 96 well, sterile, 190um clear base, black frame, 30 plates per case | 208.00 |
| 4ti-0224 | ASSY,PLATE,VP,96WL,BLKFR,CL-BTM,190UM,30CA | Optically Clear Tissue Culture Plate, 96 well, 190um clear base, black frame, 30 plates per case | 195.50 |
| 4ti-0234 | PLATE,UVP,96WL,CLFR,ULTRACLEAR UV-B,30CA | Ultra Optically Clear Plate, 96 welll, clear base, clear frame, 30 plates per case | 654.00 |
| 4ti-0241 | ASSY,4TI-0244/4TI-0280,TC,ST,24CA | Optically Clear Tissue Culture Plate, 24 well, tissue culture treated, sterile, with lid, 190um clear base, black frame, 24 plates and lids per case | 373.00 |
| 4ti-0243 | ASSY,PLATE,VP,24WL,BLKFR,CL-BTM,190UM,ST,30CA | Optically Clear Tissue Culture Plate, 24 well, sterile, 190um clear base, black frame, 30 plates per case | 208.00 |
| 4ti-0244 | ASSY,PLATE,VP,24WL,BLKFR,CL-BTM,190UM,30CA | Optically Clear Tissue Culture Plate, 24 well, 190um clear base, black frame, 30 plates per case | 195.50 |