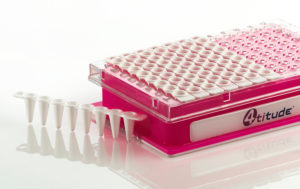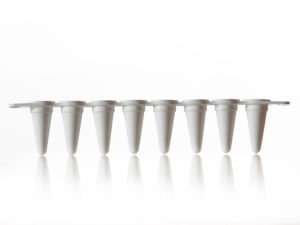 BASIC is an official representative of 4titude Consumables.
Vari-Strips™ are low profile PCR tube strips that are molded from virgin polypropylene under cleanroom conditions. They can be used either as a stand-alone product, or with our Vari-Plate™ frames for ease of handling.
Vari-Strips™ fit securely into the Vari-Plate™ frames to form a part or complete 96 well plate, and can easily be removed for the frame to be reused.
FrameStar® PCR plates are covered by one or more of the following U.S. patents or their foreign counterparts, owned by Eppendorf AG: US patent Nos. 7,347,977 and 6,340,589
| | | | |
| --- | --- | --- | --- |
| Product Code | Product Name | Product Marketing Description | 2022/23 List |
| 4ti-0753 | ASSY,TUBESTRIP,8WL,WT,POLYP,VARISTRIP,120CA | 8 Well PCR Tube Strips, white PP wells, low profile, 120 tube strips per case | 115.00 |
| 4ti-0753/757 | ASSY,0757/0753 COMBI,WT,VARIPLATE,SKT,CC H1,50CA | 96 Well Skirted PCR Plate with Removable 8 Well Strips, white PP wells, white PC frame, low profile, 50 plates per case | 711.00 |
| 4ti-0753/C/757 | ASSY,0757/0753/C COMBI,WT,VARIPLATE,SKT,CC H1,50CA | 96 Well Skirted PCR Plate with Removable 8 Well Strips, clear PP wells, white PC frame, low profile, 50 plates per case | 711.00 |
| 4ti-0753/950W | ASSY,0950W-F/0753 COMBI,WT,VARIPLATE,SSKT,50CA | 96 Well Skirted PCR Plate with Removable 8 Well Strips, Roche style, white PP wells, white PC frame, low profile, 50 plates per case | 711.00 |
| 4ti-0757-F | ASSY,FRAME,96WL,WT,HF,POLYC,VARIPLATE,SKT,10CA | 96 Well Skirted PCR Plate for Removable 8 Well Strips, white PC frame, 10 frames per case | 31.50 |
| 4ti-0950/W-F | ASSY,FRAME,96WL,WT,HF,POLYC,VARIPLATE,SSKT,10CA | 96 Well Semi-Skirted PCR Plate for Removable 8 Well Strips, Roche style, white PC frame, low profile, cut corner H12, 10 frames per case | 31.50 |
| 4ti-0753/C | ASSY,TUBESTRIP,8WL,CL,POLYP,VARISTRIP,120CA | 8 Well PCR Tube Strips, clear PP, low profile, 120 tube strips per case | 115.00 |
| 4ti-0754 | ASSY,0753/0783 COMBI,120CA | 8 Well PCR Tube Strips, white PP,  low profile, plus cap strips, 4ti-0753 plus 4ti-0751 combi pack, 120 tube strips and cap strips per case | 147.50 |
| 4ti-0754/C | ASSY,0753/C/0783 COMBI,120CA | 8 Well PCR Tube Strips, clear PP,  low profile, plus cap strips, 4ti-0753 plus 4ti-0751 combi pack, 120 tube strips and cap strips per case | 147.50 |
| 4ti-0755 | ASSY,CAPSTRIP,8WL,CL,POLYP,CRYSTALSTRIP,FLAT,300CA | Strips of 8 Flat Optical Caps, crystal clear, 300 strips per case | 127.50 |