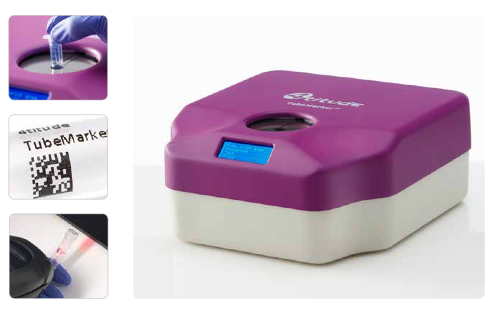 The TubeMarker™ 2: Clear – Fexible – Durable
Prints directly on the surface of plastic tubes from 0.2ml to 50ml. Labels or stickers are not required. Applying two labels to a centrifuge tubes hinders the tube from going into the tube adapter and many times the labels are damaged and become unreadable after centrifugation.
Clearer and more durable marking compared to marker pens. Consistently legible text and bar codes at high resolutions.
Resistant to alcohol, water, liquid nitrogen, DMSO and mechanical abrasion. Long lasting sample identification.
| | | | |
| --- | --- | --- | --- |
| Product Code | Product Name | Product Marketing Description | 2022/23 List |
| 4ti-0680-1 | DTM V2,3ADAPTERS | Direct Tube Marker, includes tube adapters 4TI-0681, 4TI-0683 and 4tI-0684 | 9,610.50 |
| 4ti-0681 | ASSY,DTM,ADAPTER,1.5ML/2ML,1CA | Direct Tube Marker Tube Adapter, for 1.5ml/2ml tubes, hole diameter 11.5mm | 80.00 |
| 4ti-0682 | ASSY,DTM,ADAPTER,0.5ML,1CA | Direct Tube Marker Tube Adapter, for 0.5ml tubes, hole diameter 8.5mm | 80.00 |
| 4ti-0683 | ASSY,DTM,ADAPTER,2D CLUSTER,1CA | Direct Tube Marker Tube Adapter, for Azenta Life Sciences 96 format tubes, hole diameter 8.5mm | 80.00 |
| 4ti-0684 | ASSY,DTM,ADAPTER,CRYO,1CA | Direct Tube Marker Tube Adapter, for Azenta Life Sciences 48 format cryo tubes, hole diameter 12.7mm | 80.00 |
| 4ti-0685-1 | ASSY,DTM,ADAPTER,2ML SCREW CAP,1CA | Direct Tube Marker Tube Adapter, for 2ml screw cap tubes (10mm external diameter), hole diameter 10.4mm | 80.00 |
| 4ti-0685-2 | ASSY,DTM,ADAPTER,15ML,1CA | Direct Tube Marker Tube Adapter, for 15ml tubes, hole diameter 18mm | 80.00 |
| 4ti-0685-3 | ASSY,DTM,ADAPTER,50ML,1CA | Direct Tube Marker Tube Adapter, for 50ml tubes, hole diameter 30mm | 80.00 |
| 4ti-0685-4 | ASSY,DTM,ADAPTER,MATRIX,1CA | Direct Tube Marker Tube Adapter, for Matrix tubes, hole diameter 8.2mm | 80.00 |
| 4ti-0685-5 | ASSY,DTM,ADAPTER,0.2ML,1CA | Direct Tube Marker Tube Adapter, for 0.2ml tubes, hole diameter 6.4mm | 80.00 |
| 4ti-0686 | ASSY,DTM,RIBBON,METALLIC BLUE,300MX40MM,1CA | Direct Tube Marker Ribbon, metallic blue, 300m x 40mm, 1 roll | 188.00 |
| 4ti-0688 | ASSY,DTM,RIBBON,WHITE,300MX40MM,1CA | Direct Tube Marker Ribbon, white, 300m x 40mm, 1 roll | 188.00 |
| 4ti-0689 | ASSY,DTM,RIBBON,BLACK,300MX40MM,1CA | Direct Tube Marker Ribbon, black, 300m x 40mm, 1 roll | 188.00 |
| 4ti-0689-1 | ASSY,DTM,RIBBON,BLACK,UNIVRSL,300MX40MM,1CA | Direct Tube Marker Ribbon, black, universal, 300m x 40mm, 1 roll | 188.00 |
| 4ti-0680-10 | DTM,PARTS AND LABOUR WARRANTY,12M | Direct Tube Marker Parts and Labour Standard Warranty, 12 months | 0.00 |
| 4ti-0680-11 | DTM,WARRANTY EXTENSION,SECOND YR | Direct Tube Marker Warranty Extension, 12 months, second year | 1,362.00 |
| 4ti-0680-12 | DTM,WARRANTY EXTENSION,SECOND AND THIRD YR | Direct Tube Marker Warranty Extension, 24 months, second and third year | 2,720.50 |
| 4ti-0680-113 | DTM,WARRANTY EXTENSION,THIRD YR | Direct Tube Marker Warranty Extension, 12 months, third year | 1,543.00 |
| 4ti-0680-13 | ASSY,TUBES,2ML,CL,POLYP,DEMO,500CA | Printing Demonstration Tubes | N/A |
| 4ti-0960/C-F | ASSY,FRAME,96WL,CL,HF,POLYC,FRAMESTAR,SKT,10CA | Ergo Stand Plate Adapter, 10 adapters per case | 27.00 |