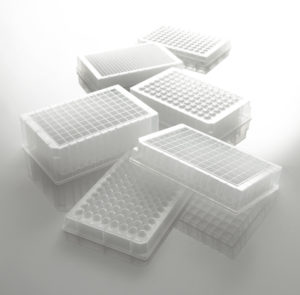 BASIC is an official representative of 4titude Consumables.
4titude HARD SHELL plates are a high quality alternative to your OEM plates. Frames are made of polycarbonate for less thermal expansion and contraction to keep your seals tight. Wells are virgin polypropylene. Competitively priced to get more results for your buck. Different colors available for batch sorting and barcoding available.
Are you doing qPCR? FrameStar is available in a white well black frame version for increase sensitivity. 96 and 384 well format. Adhesive seals available as well as Thermal materials. See our value priced semi-automatic sealer.
FrameStar® PCR plates are covered by one or more of the following U.S. patents or their foreign counterparts, owned by Eppendorf AG: US patent Nos. 7,347,977 and 6,340,589
| | | | |
| --- | --- | --- | --- |
| Product Code | Product Name | Product Marketing Description | 2022/23 List |
| 4ti-LB0109 | ASSY,PLATE,96WL,RW,MPL,LB,200UL,V-BTM,CL,POLYP,50 | 96 Round Well Microplate, low binding, 200ul round wells, V-shaped bottom, clear PP, 50 plates per case | 203.50 |
| 4ti-0110 | PLATE,96WL,RW,MPL,300UL,U-BTM,CL,POLYP,100CA | 96 Round Well Microplate, 300ul round wells, U-shaped bottom, clear PP, 100 plates per case | 253.50 |
| 4ti-0116 | PLATE,96WL,RW,MPL,350UL,U-BTM,CL,POLYP,100CA | 96 Round Well Microplate, 350ul round wells, U-shaped bottom, clear PP, 100 plates per case | 253.50 |
| 4ti-0117 | PLATE,96WL,RW,MPL,300UL,V-BTM,CL,POLYP,100CA | 96 Round Well Microplate, 330ul round wells, V-shaped bottom, clear PP, 100 plates per case | 253.50 |
| 4ti-0120 | PLATE,96WL,RW,DWP,1.2ML,U-BTM,CL,POLYP,50CA | 96 Round Deep Well Storage Microplate, 1.2ml round wells, U-shaped bottom, clear PP, 50 plates per case | 289.00 |
| 4ti-0124 | ASSY,CAPMAT,96,RW,4TI-0125,CL,SILICONE,50CA | 96 Round well Sealing Cap Mat, clear silicone, for use with 4ti-0125, 50 mats per case | 333.00 |
| 4ti-0125 | PLATE,96WL,RW,DWP,MAG,1.0ML,V-BTM,CL,POLYP,50CA | 96 Round Deep Well Storage Microplate, for magnetic separators, 1.0ml round wells, V-shaped bottom, clear PP, 50 plates per case | 295.50 |
| 4ti-LB0125 | ASSY,PLATE,96WL,RW,DWP,LB,1.0ML,V-BTM,CL,POLYP,50 | 96 Round Deep Well Storage Microplate, for magnetic separators, low binding, 1.0ml round wells, V-shaped bottom, clear PP, 50 plates per case | 332.00 |
| 4ti-0126 | PLATE,96WL,SQW,DWP,1.2ML,U-BTM,CL,POLYP,100CA | 96 Square Deep Well Storage Microplate, 1.2ml square wells, U-shaped bottom, clear PP, 100 plates per case | 426.00 |
| 4ti-0130 | PLATE,96WL,RW,DWP,2.0ML,U-BTM,CL,POLYP,50CA | 96 Round Deep Well Storage Microplate, 2.0ml round wells, U-shaped bottom, clear PP, 50 plates per case | 397.00 |
| 4ti-0131 | PLATE,12CH RSV,21ML,PYR-BTM,CL,POLYP,25CA | 12 Channel Reservoir Plate, 21ml channels, pyramid bottom, clear PP, 25 plates per case | 343.00 |
| 4ti-0132 | PLATE,96WL,SQW,DWP,2.2ML,V-BTM,CL,POLYP,50CA | 96 Square Deep Well Storage Microplate, 2.2ml square wells, V-shaped bottom, clear PP, 50 plates per case | 397.00 |
| 4ti-0133 | PLATE,12CH RSV,290ML,PYR-BTM,CL,POLYP,25CA | 12 Channel Reservoir Plate, 290ml open format, 12 channel pyramid bottom, clear PP, 25 plates per case | 343.00 |
| 4ti-0135 | CAPMAT,96,RW,WT,SILICONE,100CA | 96 Round Well Sealing Cap Mat, white silicone, for use with 4TI-0120 only, 100 mats per case | 519.00 |
| 4ti-0136 | PLATE,96WL,SQW,DWP,2.2ML,U-BTM,CL,POLYP,50CA | 96 Square Deep Well Storage Microplate, 2.2ml square wells, U-shaped bottom, clear PP, 50 plates per case | 269.00 |
| 4ti-0137 | CAPMAT,96,SQW,CL,SILICONE,50CA | 96 Square Well Sealing Cap Mat, clear silicone, for use with square 96 well microplates and deep well storage microplates, 50 mats per case | 333.00 |
| 4ti-0138 | CAPMAT,96,RW,CL,SILICONE,50CA | 96 Round Well Sealing Cap Mat, clear silicone, for use with round 96 well microplates and deep well storage microplates (not for use with 4TI-0120 and 4TI-0110), 50 mats per case | 333.00 |
| 4ti-0139 | CAPMAT,384,SQW,CL,SILICONE,50CA | 384 Square Well Sealing Cap Mat, clear silicone, for use with square 384 well microplates and deep well storage microplates, 50 mats per case | 368.00 |
| 4ti-0147 | PLATE,384WL,SQW,DWP,190UL,V-BTM,CL,POLYP,100CA | 384 Square Deep Well Storage Microplate, 190ul square wells, V-shaped bottom, clear PP, 100 plates per case | 724.50 |
| 4TI-0150 | PLATE,96WL,SQW,DWP,KINGFISHER,CL,POLYP,50CA | Deep Well Microplate KingFisher Style, 96 square 200ul wells, V-shaped bottom, 50 plates per case | 415.50 |
| 4TI-0151 | PLATE,96WL,SQW,KINGFISHER,CL,POLYP,50CA | Microplate KingFisher Style, 96 square 200ul wells, V-shaped bottom, 50 plates per case | 270.00 |
| 4TI-0152 | TIPCOMB,96WL,KINGFISHER,CL,POLYP,100CA | Comb for Deep Well Magnets KingFisher Style, 96 tips, 50 plates per case | 823.50 |