BASIC is an official representative of 4titude Consumables.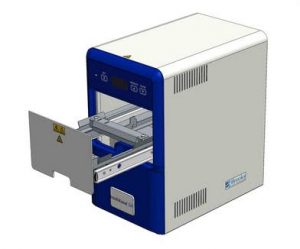 The Intellixseal is a semi-automatic thermal microplate sealer. Set your time and temperature for optimal sealing. Put your plate into the drawer, close it and start the cycle. No more guessing if you've been using consistent time and pressure and the real time temperature is displayed on the front of the unit. Get more consistent sealing and results by using the Intellixseal in your lab today. Contact us for a demo.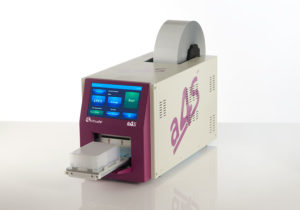 With the A4S, no air supply is required. It can be integrated with a robotic set up, Can save sealing protocols, Compatible with a wide range of plates, as well as 1536 and deep well plates, Cycle sealing time < 15 seconds, Up to 5000 seals without manual intervention. Ask for a Demo.
FrameStar® PCR plates are covered by one or more of the following U.S. patents or their foreign counterparts, owned by Eppendorf AG: US patent Nos. 7,347,977 and 6,340,589
4ti-0513De-Sealer AdhesiveFor use with Brooks XPeel® de-sealer, roll (200 m x 86 mm)1790.40790.40
| | | | |
| --- | --- | --- | --- |
| Product Code | Product Name | Product Marketing Description | 2022/23 List |
| 59-2000 | EQUIP,SEMI-AUTO SHS | Semi-Automated Sheet Heat Sealer, includes adapter (59-2001) | 7,105.00 |
| 59-2001 | ASSY,SEMI-AUTO SHS,ADAPTER,STANDARD,1CA | Semi-Automated Sheet Heat Sealer Adapter, for skirted 96 and 384 well plates, 1 adapter per case | 101.00 |
| 59-2002 | ASSY,SEMI-AUTO SHS,ADAPTER,ROCHE 1536,1CA | Semi-Automated Sheet Heat Sealer Adapter, for Roche 1536 well PCR plates, 1 adapter per case | 258.00 |
| 59-2003 | ASSY,SEMI-AUTO SHS,ADAPTER,PCR 96,SET,1CA | Semi-Automated Sheet Heat Sealer Adapter, for 96 well PCR plates, includes Semi-Automated Sheet Heat Sealer Sealing Frame (59-2009) 1 adapter and frame per case | 371.50 |
| 59-2004 | ASSY,SEMI-AUTO SHS,ADAPTER,PCR 384,1CA | Semi-Automated Sheet Heat Sealer Adapter, for 384 well PCR plates, 1 adapter per case | 196.00 |
| 59-2005 | ASSY,SEMI-AUTO SHS,ADAPTER,RA,1CA | Semi-Automated Sheet Heat Sealer Adapter, for Indvidual Access plates, 1 adapter per case | 442.00 |
| 59-2006 | ASSY,ADAPTER,FOR USE ON 59-2000,STORAGE 96/382,1CA | Semi-Automated Sheet Heat Sealer Adapter, for 96 and 384 well storage plates, 1 adapter per case | 371.50 |
| 59-2007 | ASSY,SEMI-AUTO SHS,ADAPTER,PCR 96 MPL,1CA | Semi-Automated Sheet Heat Sealer Adapter, for 4TI-LB0109 and 96 well PCR plates, 1 adapter per case | 528.50 |
| 59-2008 | ASSY,SEMI-AUTO SHS,WEIGHTED SEALING PLATEN,1CA | Semi-Automated Sheet Heat Sealer Weighted Sealing Platen, 1 platen per case | 91.50 |
| 59-2009 | ASSY,SEMI-AUTO SHS,SEALING FRAME,1CA | Semi-Automated Sheet Heat Sealer Sealing Frame, for use with Semi-Automated Sheet Heat Sealer Adapter, for use with 59-2003, 1 frame per case | 91.50 |
| 4ti-0665 | ASSY,AUTO RHS,AUTOMATIC ROLL HEAT SEALER | Automated Roll Heat Sealer, includes adapters A (4ti-0665-2) and B (4ti-0665-3) | 30,396.50 |
| 4ti-0665-1 | ASSY,AUTO RHS,SEAL LOADING TOOL | Automated Roll Heat Sealer Seal Loading Tool, 1 per case | 134.00 |
| 4ti-0665-2 | ASSY,AUTO RHS,PLATE SUPPORT ADAPTER A | Automated Roll Heat Sealer Adapter, adapter A | 493.00 |
| 4ti-0665-3 | ASSY,AUTO RHS,PLATE SUPPORT ADAPTER B | Automated Roll Heat Sealer Adapter, adapter B | 610.00 |
| 4ti-0665-4 | ASSY,AUTO RHS,ROLL HOLDER SET | Automated Roll Heat Sealer Roll Holder Set. 1 kit | 641.50 |
| 4ti-0665-5 | ASSY,AUTO RHS,VACUUM CUPS,FRONT,2CA | Automated Roll Heat Sealer Vacuum Cups, front, set of 2 | 33.00 |
| 4ti-0665-6 | ASSY,AUTO RHS,VACUUM CUPS,BACK,2CA | Automated Roll Heat Sealer Vacuum Cups, back, set of 2 | 33.00 |
| 4ti-0665-7 | ASSY,AUTO RHS,PLASTIC TWEEZERS,1CA | Automated Roll Heat Sealer Plastic Tweezers; 1 pair | 48.50 |
| 4ti-0665-8 | ASSY,AUTO RHS,CLEAR PLASTIC ROLL DUST COVER | Automated Roll Heat Sealer Dust Cover, clear plastic roll | 300.50 |
| 4ti-0665-10 | AUTO RHS,PARTS AND LABOUR WARRANTY,24M | Automated Roll Heat Sealer Parts and Labour Standard Warranty, 24 months | 0.00 |
| 4ti-0665-11 | AUTO RHS,WARRANTY EXTENSION,THIRD YR | Automated Roll Heat Sealer Warranty Extension, 12 months, third year | 4,812.50 |
| 4ti-0665-12 | AUTO RHS,WARRANTY EXTENSION,THIRD AND FOURTH YR | Automated Roll Heat Sealer Warranty Extension, 24 months, third and fourth year | 9,621.50 |
| 4ti-0665-113 | AUTO RHS,WARRANTY EXTENSION,FOURTH YR | Automated Roll Heat Sealer Warranty Extension, 12 months, fourth year | 5,775.00 |
| 4ti-0665-41 | AUTO RHS,SILA DRIVER | Automated Roll Heat Sealer SiLA Driver | 1,411.50 |
| 4ti-0514 | ASSY,AUTO PSR | Automated Plate Seal Remover | 45,372.50 |