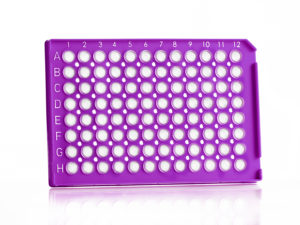 BASIC is an official representative of 4titude Consumables.
FrameStar® 96 Well ABI® Style Plates are designed for and tested on ABI® standard blocks; with 0.25 ml polypropylene wells, a rigid semi-skirted polycarbonate frame with upstand, and a cut corner at A12.
This ABI® Style PCR plate offers the benefits of a 2-component design to ABI® standard block users. This design combines the advantages of ultra-thin wall polypropylene tubes for optimum PCR results with a rigid polycarbonate skirt and deck for the highest thermal stability.
FrameStar® PCR plates are covered by one or more of the following U.S. patents or their foreign counterparts, owned by Eppendorf AG: US patent Nos. 7,347,977 and 6,340,589
| | | | |
| --- | --- | --- | --- |
| Product Code | Product Name | Product Marketing Description | 2022/23 List |
| 4ti-0710 | ASSY,PLATE,96WL,PPLFR,CLWL,FRAMESTAR,NSKT,50CA | FrameStar 96 Well Non-Skirted PCR Plate, clear PP wells, purple PC frame, high profile, cut corner H1, 50 plates per case | 295.50 |
| 4ti-0710/B | ASSY,PLATE,96WL,BLFR,CLWL,FRAMESTAR,NSKT,50CA | FrameStar 96 Well Non-Skirted PCR Plate, clear PP wells, blue PC frame, high profile, cut corner H1, 50 plates per case | 292.00 |
| 4ti-0710/G | ASSY,PLATE,96WL,GRNFR,CLWL,FRAMESTAR,NSKT,50CA | FrameStar 96 Well Non-Skirted PCR Plate, clear PP wells, green PC frame, high profile, cut corner H1, 50 plates per case | 292.00 |
| 4ti-0710/R | ASSY,PLATE,96WL,RDFR,CLWL,FRAMESTAR,NSKT,50CA | FrameStar 96 Well Non-Skirted PCR Plate, clear PP wells, red PC frame, high profile, cut corner H1, 50 plates per case | 292.00 |
| 4ti-0710/C | ASSY,PLATE,96WL,CLFR,CLWL,FRAMESTAR,NSKT,50CA | FrameStar 96 Well Non-Skirted PCR Plate, clear PP wells, clear PC frame, high profile, cut corner H1, 50 plates per case | 284.00 |
| 4ti-0711 | ASSY,PLATE,96WL,BLKFR,WTWL,FRAMESTAR,NSKT,50CA | FrameStar 96 Well Non-Skirted PCR Plate, white PP wells, black PC frame, high profile, cut corner H1, 50 plates per case | 319.50 |
| 4ti-0720 | ASSY,PLATE,96WL,PPLFR,CLWL,FRAMESTAR,LP,NSKT,50CA | FrameStar 96 Well Non-Skirted PCR Plate, clear PP wells, purple PC frame, low profile, cut corner H1, 50 plates per case | 295.50 |
| 4ti-0720/B | ASSY,PLATE,96WL,BLFR,CLWL,FRAMESTAR,LP,NSKT,50CA | FrameStar 96 Well Non-Skirted PCR Plate, clear PP wells, blue PC frame, low profile, cut corner H1, 50 plates per case | 292.00 |
| 4ti-0720/C | ASSY,PLATE,96WL,CLFR,CLWL,FRAMESTAR,LP,NSKT,50CA | FrameStar 96 Well Non-Skirted PCR Plate, clear PP wells, clear PC frame, low profile, cut corner H1, 50 plates per case | 284.00 |
| 4ti-0721 | ASSY,PLATE,96WL,BLKFR,WTWL,FRAMESTAR,LP,NSKT,50CA | FrameStar 96 Well Non-Skirted PCR Plate, clear PP wells, black PC frame, low profile, cut corner H1, 50 plates per case | 319.50 |
| 4ti-0730 | ASSY,PLATE,96WL,PPLFR,CLWL,FRAMESTAR,UP,50CA | FrameStar 96 Well Semi-Skirted PCR Plate, ABI style, clear PP wells, purple PC frame, with upstand, high profile, cut corner A12, 50 plates per case | 292.00 |
| 4ti-0730/B | ASSY,PLATE,96WL,BLFR,CLWL,FRAMESTAR,UP,50CA | FrameStar 96 Well Semi-Skirted PCR Plate, ABI style, clear PP wells, blue PC frame, with upstand, high profile, cut corner A12, 50 plates per case | 292.00 |
| 4ti-0730/G | ASSY,PLATE,96WL,GRNFR,CLWL,FRAMESTAR,UP,50CA | FrameStar 96 Well Semi-Skirted PCR Plate, ABI style, clear PP wells, green PC frame, with upstand, high profile, cut corner A12, 50 plates per case | 292.00 |
| 4ti-0730/R | ASSY,PLATE,96WL,RDFR,CLWL,FRAMESTAR,UP,50CA | FrameStar 96 Well Semi-Skirted PCR Plate, ABI style, clear PP wells, red PC frame, with upstand, high profile, cut corner A12, 50 plates per case | 292.00 |
| 4ti-0730/X | ASSY,PLATE,96WL,BLKFR,CLWL,FRAMESTAR,UP,50CA | FrameStar 96 Well Semi-Skirted PCR Plate, ABI style, clear PP wells, black PC frame, with upstand, high profile, cut corner A12, 50 plates per case | 292.00 |
| 4ti-0730/C | ASSY,PLATE,96WL,CLFR,CLWL,FRAMESTAR,UP,50CA | FrameStar 96 Well Semi-Skirted PCR Plate, ABI style, clear PP wells, clear PC frame, with upstand, high profile, cut corner A12, 50 plates per case | 279.50 |
| 4ti-0730/C/10P | ASSY,PLATE,96WL,CLFR,CLWL,FRAMESTAR,UP,10CA | FrameStar 96 Well Semi-Skirted PCR Plate, ABI style, clear PP wells, clear PC frame, with upstand, high profile, cut corner A12, 10 plates per case | 64.00 |
| 4ti-OX730/C/SBC | ASSY,PLATE,96WL,CLFR,CLWL,FRAMESTAR,UP,OX,SBC,20 | FrameStar 96 Well Semi-Skirted PCR Plate, ABI Style, clear PP wells, clear PC frame, with upstand, ethylene oxide treated, single barcoded, high profile, cut corner A12, 20 plates per case | 179.00 |
| 4ti-0735 | ASSY,PLATE,96WL,CL,HF,POLYP,PCR,UP,CC H12,50CA | 96 Well Semi-Skirted PCR Plate, ABI style, clear PP, with upstand, high profile, cut corner H12, 50 plates per case | 215.00 |
| 4ti-0736 | ASSY,PLATE,96WL,FRSTD,HF,POLYP,PCR,UP,CC H12,50CA | 96 Well Semi-Skirted PCR Plate, ABI style, frosted PP, with upstand, high profile, cut corner H12, 50 plates per case | 222.50 |
| 4ti-0740 | ASSY,PLATE,96WL,CL,HF,POLYP,PCR,SKT,LP,CC H1,50CA | 96 Well Skirted PCR Plate, clear PP, low profile, cut corner H1, 50 plates per case | 215.00 |
| 4ti-0741 | ASSY,PLATE,96WL,WT,HF,POLYP,PCR,SKT,LP,CC H1,50CA | 96 Well Skirted PCR Plate, white PP, low profile, cut corner H1, 50 plates per case | 222.50 |
| 4ti-0750-25 | ASSY,PLATE,96WL,CL,HF,POLYP,PCR,NSKT,CC H12,25CA | 96 Well Non-Skirted PCR Plate, clear PP, high profile, cut corner H12, 25 plates per case | 144.50 |
| 4ti-0750 | ASSY,PLATE,96WL,CL,HF,POLYP,PCR,NSKT,CC H12,50CA | 96 Well Non-Skirted PCR Plate, clear PP, high profile, cut corner H12, 50 plates per case | 215.00 |
| 4ti-0750/W | ASSY,PLATE,96WL,WT,HF,POLYP,PCR,NSKT,CC H12,50CA | 96 Well Non-Skirted PCR Plate, white PP, high profile, cut corner H12, 50 plates per case | 222.50 |
| 4ti-0750/B | ASSY,PLATE,96WL,BL,HF,POLYP,PCR,NSKT,CC H12,50CA | 96 Well Non-Skirted PCR Plate, blue PP, high profile, cut corner H12, 50 plates per case | 222.50 |
| 4ti-0750/R | ASSY,PLATE,96WL,RD,HF,POLYP,PCR,NSKT,CC H12,50CA | 96 Well Non-Skirted PCR Plate, red PP, high profile, cut corner H12, 50 plates per case | 222.50 |
| 4ti-0750/Y | ASSY,PLATE,96WL,YLLW,HF,POLYP,PCR,NSKT,CC H12,50CA | 96 Well Non-Skirted PCR Plate, yellow PP, high profile, cut corner H12, 50 plates per case | 222.50 |
| 4ti-0750/G | ASSY,PLATE,96WL,BL,HF,POLYP,PCR,NSKT,CC H12,50CA | 96 Well Non-Skirted PCR Plate, green PP, high profile, cut corner H12, 50 plates per case | 222.50 |
| 4ti-0750/P | ASSY,PLATE,96WL,PPL,HF,POLYP,PCR,NSKT,CC H12,50CA | 96 Well Non-Skirted PCR Plate, purple PP, high profile, cut corner H12, 50 plates per case | 222.50 |
| 4ti-0750/8 | ASSY,PLATE,8WL,CL,HF,POLYP,PCR,NSKT,600CA | 8 Well Non-Skirted PCR Plate Segment, clear PP, high profile, 600 segments per case | 247.00 |
| 4ti-0750/8/B | ASSY,PLATE,8WL,BL,HF,POLYP,PCR,NSKT,600CA | 8 Well Non-Skirted PCR Plate Segment, blue PP, high profile, 600 segments per case | 247.00 |
| 4ti-0750/8/R | ASSY,PLATE,8WL,RD,HF,POLYP,PCR,NSKT,600CA | 8 Well Non-Skirted PCR Plate Segment, red PP, high profile, 600 segments per case | 247.00 |
| 4ti-0750/8/Y | ASSY,PLATE,8WL,YLLW,HF,POLYP,PCR,NSKT,600CA | 8 Well Non-Skirted PCR Plate Segment, yellow PP, high profile, 600 segments per case | 247.00 |
| 4ti-0750/8/G | ASSY,PLATE,8WL,GRN,HF,POLYP,PCR,NSKT,600CA | 8 Well Non-Skirted PCR Plate Segment, green PP, high profile, 600 segments per case | 247.00 |
| 4ti-0750/8/P | ASSY,PLATE,8WL,PPL,HF,POLYP,PCR,NSKT,600CA | 8 Well Non-Skirted PCR Plate Segment, purple PP, high profile, 600 segments per case | 247.00 |
| 4ti-0750/16 | ASSY,PLATE,16WL,CL,NHF,POLYP,PCR,NSKT,300CA | 16 Well Non-Skirted PCR Plate Segment, clear PP, high profile, 300 segments per case | 247.00 |
| 4ti-0750/16/B | ASSY,PLATE,16WL,BL,NHF,POLYP,PCR,NSKT,300CA | 16 Well Non-Skirted PCR Plate Segment, blue PP, high profile, 300 segments per case | 247.00 |
| 4ti-0750/16/R | ASSY,PLATE,16WL,RD,NHF,POLYP,PCR,NSKT,300CA | 16 Well Non-Skirted PCR Plate Segment, red PP, high profile, 300 segments per case | 247.00 |
| 4ti-0750/16/Y | ASSY,PLATE,16WL,YLLW,NHF,POLYP,PCR,NSKT,300CA | 16 Well Non-Skirted PCR Plate Segment, yellow PP, high profile, 300 segments per case | 247.00 |
| 4ti-0750/16/G | ASSY,PLATE,16WL,GRN,HF,POLYP,PCR,NSKT,300CA | 16 Well Non-Skirted PCR Plate Segment, green PP, high profile, 300 segments per case | 247.00 |
| 4ti-0750/16/P | ASSY,PLATE,16WL,PPL,HF,POLYP,PCR,NSKT,300CA | 16 Well Non-Skirted PCR Plate Segment, purple PP, high profile, 300 segments per case | 247.00 |
| 4ti-0750/24 | ASSY,PLATE,24WL,CL,NHF,POLYP,PCR,NSKT,200CA | 24 Well Non-Skirted PCR Plate Segment, clear PP, high profile, 200 segments per case | 238.50 |
| 4ti-0750/24/B | ASSY,PLATE,24WL,BL,NHF,POLYP,PCR,NSKT,200CA | 24 Well Non-Skirted PCR Plate Segment, blue PP, high profile, 200 segments per case | 238.50 |
| 4ti-0750/24/R | ASSY,PLATE,24WL,RD,NHF,POLYP,PCR,NSKT,200CA | 24 Well Non-Skirted PCR Plate Segment, red PP, high profile, 200 segments per case | 238.50 |
| 4ti-0750/24/Y | ASSY,PLATE,24WL,YLLW,NHF,POLYP,PCR,NSKT,200CA | 24 Well Non-Skirted PCR Plate Segment, yellow PP, high profile, 200 segments per case | 238.50 |
| 4ti-0750/24/G | ASSY,PLATE,24WL,GRN,HF,POLYP,PCR,NSKT,200CA | 24 Well Non-Skirted PCR Plate Segment, green PP, high profile, 200 segments per case | 238.50 |
| 4ti-0750/24/P | ASSY,PLATE,24WL,PPL,HF,POLYP,PCR,NSKT,200CA | 24 Well Non-Skirted PCR Plate Segment, purple PP, high profile, 200 segments per case | 238.50 |
| 4ti-0750/32 | ASSY,PLATE,32WL,CL,HF,POLYP,PCR,NSKT,150CA | 32 Well Non-Skirted PCR Plate Segment, clear PP, high profile, 150 segments per case | 238.50 |
| 4ti-0750/32/B | ASSY,PLATE,32WL,BL,HF,POLYP,PCR,NSKT,150CA | 32 Well Non-Skirted PCR Plate Segment, blue PP, high profile, 150 segments per case | 238.50 |
| 4ti-0750/32/R | ASSY,PLATE,32WL,RD,HF,POLYP,PCR,NSKT,150CA | 32 Well Non-Skirted PCR Plate Segment, red PP, high profile, 150 segments per case | 238.50 |
| 4ti-0750/32/Y | ASSY,PLATE,32WL,YLLW,HF,POLYP,PCR,NSKT,150CA | 32 Well Non-Skirted PCR Plate Segment, yellow PP, high profile, 150 segments per case | 238.50 |
| 4ti-0750/32/G | ASSY,PLATE,32WL,GRN,HF,POLYP,PCR,NSKT,150CA | 32 Well Non-Skirted PCR Plate Segment, green PP, high profile, 150 segments per case | 238.50 |
| 4ti-0750/32/P | ASSY,PLATE,32WL,PPL,HF,POLYP,PCR,NSKT,150CA | 32 Well Non-Skirted PCR Plate Segment, purple PP, high profile, 150 segments per case | 238.50 |
| 4ti-0750/48 | ASSY,PLATE,48WL,CL,HF,POLYP,PCR,NSKT,100CA | 48 Well Non-Skirted PCR Plate Segment, clear PP, high profile, 100 segments per case | 228.50 |
| 4ti-0750/48/B | ASSY,PLATE,48WL,BL,HF,POLYP,PCR,NSKT,100CA | 48 Well Non-Skirted PCR Plate Segment, blue PP, high profile, 100 segments per case | 228.50 |
| 4ti-0750/48/R | ASSY,PLATE,48WL,RD,HF,POLYP,PCR,NSKT,100CA | 48 Well Non-Skirted PCR Plate Segment, red PP, high profile, 100 segments per case | 228.50 |
| 4ti-0750/48/Y | ASSY,PLATE,48WL,YLLW,HF,POLYP,PCR,NSKT,100CA | 48 Well Non-Skirted PCR Plate Segment, yellow PP, high profile, 100 segments per case | 228.50 |
| 4ti-0750/48/G | ASSY,PLATE,48WL,GRN,HF,POLYP,PCR,NSKT,100CA | 48 Well Non-Skirted PCR Plate Segment, green PP, high profile, 100 segments per case | 228.50 |
| 4ti-0750/48/P | ASSY,PLATE,48WL,PPL,HF,POLYP,PCR,NSKT,100CA | 48 Well Non-Skirted PCR Plate Segment, purple PP, high profile, 100 segments per case | 228.50 |
| 4ti-0750/TA | ASSY,PLATE,96WL/8,CL,HF,POLYP,NSKT,CC H12,TA,50CA | 96 Well Non-Skirted PCR Plate, clear PP, breakable vertically, high profile, cut corner H12, 50 plates per case | 240.00 |
| 4ti-0750/W/TA | ASSY,PLATE,96WL/8,WT,HF,POLYP,NSKT,CC H12,TA,50CA | 96 Well Non-Skirted PCR Plate, white PP wells, breakable vertically, cut corner H12, 50 plates per case | 248.00 |
| 4ti-0750/TA/12 | ASSY,PLATE,96WL/12,CL,HF,POLYP,NSKT,CC H12,TA,50CA | 96 Well Non-Skirted PCR Plate, clear PP, breakable horizontally, high profile, cut corner H12, 50 plates per case | 240.00 |
| 4ti-0751 | ASSY,CAPSTRIP,8WL,CL,POLYP,FLAT,OP,300CA | Strips of 8 Flat Optical Caps, 300 strips per case | 132.00 |
| 4ti-0752 | ASSY,CAPSTRIP,8WL,CL,POLYP,DOMED,300CA | Strips of 8 Domed Caps, 300 strips per case | 132.00 |
| 4ti-0753 | ASSY,TUBESTRIP,8WL,WT,POLYP,VARISTRIP,120CA | 8 Well PCR Tube Strips, white PP wells, low profile, 120 tube strips per case | 115.00 |
| 4ti-0753/757 | ASSY,0757/0753 COMBI,WT,VARIPLATE,SKT,CC H1,50CA | 96 Well Skirted PCR Plate with Removable 8 Well Strips, white PP wells, white PC frame, low profile, 50 plates per case | 711.00 |
| 4ti-0753/C/757 | ASSY,0757/0753/C COMBI,WT,VARIPLATE,SKT,CC H1,50CA | 96 Well Skirted PCR Plate with Removable 8 Well Strips, clear PP wells, white PC frame, low profile, 50 plates per case | 711.00 |
| 4ti-0753/950W | ASSY,0950W-F/0753 COMBI,WT,VARIPLATE,SSKT,50CA | 96 Well Skirted PCR Plate with Removable 8 Well Strips, Roche style, white PP wells, white PC frame, low profile, 50 plates per case | 711.00 |
| 4ti-0757-F | ASSY,FRAME,96WL,WT,HF,POLYC,VARIPLATE,SKT,10CA | 96 Well Skirted PCR Plate for Removable 8 Well Strips, white PC frame, 10 frames per case | 31.50 |
| 4ti-0950/W-F | ASSY,FRAME,96WL,WT,HF,POLYC,VARIPLATE,SSKT,10CA | 96 Well Semi-Skirted PCR Plate for Removable 8 Well Strips, Roche style, white PC frame, low profile, cut corner H12, 10 frames per case | 31.50 |
| 4ti-0753/C | ASSY,TUBESTRIP,8WL,CL,POLYP,VARISTRIP,120CA | 8 Well PCR Tube Strips, clear PP, low profile, 120 tube strips per case | 115.00 |
| 4ti-0754 | ASSY,0753/0783 COMBI,120CA | 8 Well PCR Tube Strips, white PP,  low profile, plus cap strips, 4ti-0753 plus 4ti-0751 combi pack, 120 tube strips and cap strips per case | 147.50 |
| 4ti-0754/C | ASSY,0753/C/0783 COMBI,120CA | 8 Well PCR Tube Strips, clear PP,  low profile, plus cap strips, 4ti-0753 plus 4ti-0751 combi pack, 120 tube strips and cap strips per case | 147.50 |
| 4ti-0755 | ASSY,CAPSTRIP,8WL,CL,POLYP,CRYSTALSTRIP,FLAT,300CA | Strips of 8 Flat Optical Caps, crystal clear, 300 strips per case | 127.50 |
| 4ti-0755/120 | ASSY,CAPSTRIP,8WL,CL,POLYP,CRYSTALSTRIP,FLAT,120CA | Strips of 8 Flat Optical Caps, crystal clear, 120 strips per case | 61.50 |
| 4ti-0760 | ASSY,PLATE,96WL,CL,HF,POLYP,PCR,SSKT,CC A12,50CA | 96 Well Semi-Skirted PCR Plate, clear PP, high profile, cut corner A12, 50 plates per case | 215.00 |
| 4ti-0761 | ASSY,PLATE,96WL,WT,HF,POLYP,PCR,SSKT,CC A12,50CA | 96 Well Semi-Skirted PCR Plate, white PP, high profile, cut corner A12, 50 plates per case | 222.50 |
| 4ti-0762 | 96 WELL SEMI-SKIRTED PCR PLATE | 96 Well Semi-Skirted PCR Plate, frosted PP, high profile, 50 plates per case | 210.00 |
| 4ti-0770 | ASSY,PLATE,96WL,PPLFR,CLWL,FRAMESTAR,SSKT,50CA | FrameStar 96 Well Semi-Skirted PCR Plate, ABI style, clear PP wells, purple PC frame, high profile, cut corner A12, 50 plates per case | 295.50 |
| 4ti-0770/C | ASSY,PLATE,96WL,CLFR,CLWL,FRAMESTAR,SSKT,50CA | FrameStar 96 Well Semi-Skirted PCR Plate, ABI style, clear PP wells, clear PC frame, high profile, cut corner A12, 50 plates per case | 284.00 |
| 4ti-0770/C/10P | FRAMESTAR 96 WELL SEMI-SKIRTED PCR PLATE,ABI STYLE | FrameStar 96 Well Semi-Skirted PCR Plate, ABI style, clear PP wells, clear PC frame, high profile, cut corner A12, 10 plates per case | 64.00 |
| 4ti-LB0770/C | ASSY,PLATE,96WL,CLFR,CLWL,,FRAMESTAR,SSKT,LB,50CA | FrameStar 96 Well Semi-Skirted PCR Plate, ABI style, clear PP wells, clear PC frame, low binding, high profile, cut corner A12, 50 plates per case | 322.00 |
| 4ti-0770/B | ASSY,PLATE,96WL,BLFR,CLWL,FRAMESTAR,SSKT,50CA | FrameStar 96 Well Semi-Skirted PCR Plate, ABI style, clear PP wells, blue PC frame, high profile, cut corner A12, 50 plates per case | 292.00 |
| 4ti-0770/R | ASSY,PLATE,96WL,RDFR,CLWL,FRAMESTAR,SSKT,50CA | FrameStar 96 Well Semi-Skirted PCR Plate, ABI style, clear PP wells, red PC frame, high profile, cut corner A12, 50 plates per case | 292.00 |
| 4ti-0770/G | ASSY,PLATE,96WL,GRNFR,CLWL,FRAMESTAR,SSKT,50CA | FrameStar 96 Well Semi-Skirted PCR Plate, ABI style, clear PP wells, green PC frame, high profile, cut corner A12, 50 plates per case | 292.00 |
| 4ti-0770/X | ASSY,PLATE,96WL,BLKFR,CLWL,FRAMESTAR,SSKT,50CA | FrameStar 96 Well Semi-Skirted PCR Plate, ABI style, clear PP wells, black PC frame, high profile, cut corner A12, 50 plates per case | 292.00 |
| 4ti-OX770/C/SBC | PLATE,96WL,CLFR,CLWL,PATNO,FRAMESTAR,SSKT,OX,SBC | FrameStar 96 Well Semi-Skirted PCR Plate, ABI style, clear PP wells, clear PC frame, with upstand, ethylene oxide treated, single barcoded, high profile, cut corner A12, 20 plates per case | 179.00 |
| 4ti-0771 | ASSY,PLATE,96WL,BLKFR,WTWL,FRAMESTAR,SSKT,50CA | FrameStar 96 Well Semi-Skirted PCR Plate, ABI style, white PP wells, black PC frame, high profile, cut corner A12, 50 plates per case | 319.50 |
| 4ti-0772 | ASSY,PLATE,96WL,CLFR,FRSTDWL,FRAMESTAR,SSKT,50CA | FrameStar 96 Well Semi-Skirted PCR Plate, ABI style, frosted PP wells, clear PC frame, high profile, cut corner A12, 50 plates per case | 292.00 |
| 4ti-0772/10P | FRAMESTAR 96 WELL SEMI-SKIRTED PCR PLATE,ABI STYLE | FrameStar 96 Well Semi-Skirted PCR Plate, ABI style, frosted PP wells, clear PC frame, high profile, cut corner A12, 10 plates per case | 68.00 |
| 4ti-0778 | CAPMAT,96,BL,TPE,PCR,50CA | Cap Mat for PCR Plates, 96 individual caps in sheet format, blue TPE, pierceable, 50 mats per case | 498.50 |
| 4ti-0780 | ASSY,TUBE/CAP COMBI,0781/0782,125CA | 8 Well PCR Tube Strips, plus Strips of Domed Caps, 4TI-0781 plus 4TI-0782, combi pack, 125 tube strips and cap strips per case | 151.50 |
| 4ti-0781 | ASSY,TUBESTRIP,8WL,CL,POLYP,PCR,125CA | 8 Well PCR Tube Strips, clear PP, high profile, 125 strips per case | 115.00 |
| 4ti-0782 | ASSY,CAPSTRIP,8WL,CL,POLYP,PCR,DOMED,125CA | Strips of 8 Domed Caps, 125 strips per case | 68.00 |
| 4ti-0783 | ASSY,CAPSTRIP,8WL,CL,POLYP,PCR,FLAT,OP,125CA | Strips of 8 Flat Optical Caps, 125 strips per case | 68.00 |
| 4ti-0784 | ASSY,TUBE/CAP COMBI,0781/0783,125CA | 8 Well PCR Tube Strips, plus Strips of Flat Caps, 4TI-0781 plus 4TI-0783, combi pack, 125 tube strips and cap strips per case | 151.50 |
| 4ti-0785/B | ASSY,TUBE/CAPSTRIP COMBI,775/B/0782,120CA | 8 Well PCR Tube Strips, clear PP wells, blue PC frame, high profile, plus strips of domed caps, 120 tube strips and cap strips per case | 148.50 |
| 4ti-0785/G | ASSY,TUBE/CAPSTRIP COMBI,775/G/0782,120CA | 8 Well PCR Tube Strips, clear PP wells, green PC frame, high profile, plus strips of domed caps, 120 tube strips and cap strips per case | 148.50 |
| 4ti-0785/P | ASSY,TUBE/CAPSTRIP COMBI,775/P/0782,120CA | 8 Well PCR Tube Strips, clear PP wells, purple PC frame, high profile, plus strips of domed caps, 120 tube strips and cap strips per case | 151.50 |
| 4ti-0785/R | ASSY,TUBE/CAPSTRIP COMBI,775/R/0782,120CA | 8 Well PCR Tube Strips, clear PP wells, red PC frame, high profile, plus strips of domed caps, 120 tube strips and cap strips per case | 148.50 |
| 4ti-0785/X | ASSY,TUBE/CAPSTRIP COMBI,775/X/0782,120CA | 8 Well PCR Tube Strips, clear PP wells, black PC frame, high profile, plus strips of domed caps, 120 tube strips and cap strips per case | 148.50 |
| 4ti-0785/X/2D | ASSY,TUBE/CAPSTRIP COMBI,775/X/2D/0782,120CA | 8 Well PCR Tube Strips, clear PP wells, black PC frame, 2D coded, high profile, plus strips of domed caps, 120 tube strips and cap strips per case | 176.50 |
| 4ti-0785/W/2D | ASSY,TUBE/CAPSTRIP COMBI,775/W/2D/0782,120CA | 8 Well PCR Tube Strips, clear PP wells, white PC frame, plus strips of domed caps, 2D coded, 120 tube strips and cap strips per case | 176.50 |
| 4ti-0785/XW | ASSY,TUBE/CAPSTRIP COMBI,775/XW/0782,120CA | 8 Well PCR Tube Strips, white PP wells, black PC frame, high profile, plus strips of domed caps, 120 tube strips and cap strips per case | 162.50 |
| 4ti-0785/M | ASSY,TUBE/CAPSTRIP COMBI,775/M/0782,120CA | 8 Well PCR Tube Strips, clear PP wells, assorted colours PC frame, high profile, plus strips of domed caps, 120 tube strips and cap strips per case | 148.50 |
| 4ti-0786/B | ASSY,TUBE/CAPSTRIP COMBI,775/B/0783,120CA | 8 Well PCR Tube Strips, clear PP wells, blue PC frame, high profile, plus strips of flat caps, 120 tube strips and cap strips per case | 148.50 |
| 4ti-0786/G | ASSY,TUBE/CAPSTRIP COMBI,775/G/0783,120CA | 8 Well PCR Tube Strips, clear PP wells, green PC frame, plus strips of flat caps, high profile, 120 tube strips and cap strips per case | 148.50 |
| 4ti-0786/P | ASSY,TUBE/CAPSTRIP COMBI,775/P/0783,120CA | 8 Well PCR Tube Strips, clear PP wells, purple PC frame, plus strips of flat caps, high profile, 120 tube strips and cap strips per case | 151.50 |
| 4ti-0786/R | ASSY,TUBE/CAPSTRIP COMBI,775/R/0783,120CA | 8 Well PCR Tube Strips, clear PP wells, red PC frame, plus strips of flat caps, high profile, 120 tube strips and cap strips per case | 148.50 |
| 4ti-0786/X | ASSY,TUBE/CAPSTRIP COMBI,775/X/0783,120CA | 8 Well PCR Tube Strips, clear PP wells, black PC frame, plus strips of flat caps, high profile, 120 tube strips and cap strips per case | 148.50 |
| 4ti-0786/X/2D | ASSY,TUBE/CAPSTRIP COMBI,775/X/2D/0783,120CA | 8 Well PCR Tube Strips, clear PP wells, black PC frame, plus strips of flat caps, high profile, 2D coded, 120 tube strips and cap strips per case | 187.50 |
| 4ti-0786/W/2D | ASSY,TUBE/CAPSTRIP COMBI,775/W/2D/0783,120CA | 8 Well PCR Tube Strips, clear PP wells, white PC frame, plus strips of flat caps, 2D coded, 120 tube strips and cap strips per case | 187.50 |
| 4ti-0786/XW | ASSY,TUBE/CAPSTRIP COMBI,775/XW/0783,120CA | 8 Well PCR Tube Strips, white PP wells, black PC frame, plus strips of flat caps, high profile, 120 tube strips and cap strips per case | 162.50 |
| 4ti-0786/M | ASSY,TUBE/CAPSTRIP COMBI,775/M/0783,120CA | 8 Well PCR Tube Strips, clear PP wells, assorted colours PC frame, plus strips of flat caps, high profile, 120 tube strips and cap strips per case | 148.50 |
| 4ti-0788 | ASSY,CAPSTRIP,12WL,CL,POLYP,PCR,FLAT,OP,200CA | Strips of 12 Flat Optical Caps, 200 strips per case | 131.00 |
| 4ti-0790 | ASSY,TUBE,CL,POLYP,0.2ML,PCR,FLAT CAP,1000CA | Individual PCR Tubes with Attached Flat Caps, 0.2ml, clear PP wells, 1000 tubes per case | 71.50 |
| 4ti-0790/2D | ASSY,TUBE,CL,POLYP,0.2ML,PCR,FLAT CAP,2D,960CA | Individual PCR Tubes with Attached Flat Caps, 0.2ml, clear PP, 2D coded, high profile, 960 tubes per case | 391.50 |
| 4ti-0792 | ASSY,TUBESTRIP,8WL,CL,POLYP,0.2ML,FLAT CAP,120CA | 8 Well PCR Tube Strips, with Attached Flat Caps, 0.2ml wells, clear PP, high profile, 120 tube strips per case | 136.00 |
| 4ti-0793 | ASSY,TUBESTRIP,8WL,CL,POLYP,0.1ML,FLAT CAP,120CA | 8 Well PCR Tube Strips, with Attached Flat Caps, 0.1ml wells, clear PP, low profile, 120 tube strips per case | 141.50 |
| 4ti-0794 | ASSY,TUBESTRIP,8WL,CL,POLYP,0.2ML,DOMED CAP,120CA | 8 Well PCR Tube Strips, with Attached Domed Caps, 0.2ml wells, clear PP, high profile, 120 tube strips per case | 121.00 |
| 4ti-0795 | ASSY,TUBE,CL,POLYP,0.2ML,PCR,DOMED CAP,1000CA | Individual PCR Tubes with Attached Domed Caps, 0.2ml, clear PP, high profile, 1000 tubes per case | 71.50 |
| 4ti-0796 | ASSY,TUBE/CAP COMBI,4WL,ROTORGENE,PCR,250CA | 4 Well PCR Tube Strips, Rotor-Gene style, plus strips of caps, clear PP, 250 tube strips and cap strips per case | 221.00 |
| 4ti-0798 | ASSY,TUBE,CL,POLYP,2.0ML,FLAT SAFE-LOCK CAP,500CA | Microcentrifuge Tubes with Attached Flat Caps, 2.0ml, clear PP, graduated with frosted window, flat safe-lock cap, 500 tubes per case | 46.00 |
| 4ti-0900/C | ASSY,PLATE,96WL,CLFR,CLWL,FRAMESTAR,SSKT,50CA | FrameStar 96 Well Semi-Skirted PCR Plate, clear PP wells, clear PC frame, high profile, cut corner H1, 50 plates per case | 284.00 |
| 4ti-0901 | ASSY,PLATE,96WL,CLFR,WTWL,FRAMESTAR,SSKT,50CA | FrameStar 96 Well Semi-Skirted PCR Plate, white PP wells, clear PC frame, high profile, cut corner H1, 50 plates per case | 319.50 |
| 4ti-0910/C | ASSY,PLATE,96WL,CLFR,CLWL,FRAMESTAR,UP,LP,50CA | FrameStar 96 Well Semi-Skirted PCR Plate, ABI Fastplate style, clear PP wells, clear PC frame, with upstand, low profile, cut corner A1, 50 plates per case | 284.00 |
| 4ti-0910/C/10P | ASSY,PLATE,96WL,CLFR,CLWL,FRAMESTAR,UP,LP,10CA | FrameStar 96 Well Semi-Skirted PCR Plate, ABI Fastplate style, clear PP wells, clear PC frame, with upstand, low profile, cut corner A1, 10 plates per case | 64.00 |
| 4ti-0911 | ASSY,PLATE,96WL,CLFR,WTWL,FRAMESTAR,UP,LP,50CA | FrameStar 96 Well Semi-Skirted PCR Plate, ABI Fastplate style, white PP wells, clear PC frame, with upstand, low profile, cut corner A1, 50 plates per case | 319.50 |
| 4ti-0912 | PLATE,96WL,CLFR,FRSTDWL,FRAMESTAR,UP,LP,50CA | FrameStar 96 Well Semi-Skirted PCR Plate, ABI Fastplate style, frosted PP wells, clear PC frame, with upstand, low profile, cut corner A1, 50 plates per case | 279.50 |
| 4ti-0912/10P | PLATE,96WL,CLFR,FRSTDWL,FRAMESTAR,UP,LP,10CA | FrameStar 96 Well Semi-Skirted PCR Plate, ABI Fastplate style, frosted PP wells, clear PC frame, with upstand, low profile, cut corner A1, 10 plates per case | 64.00 |
| 4ti-0950/C | ASSY,PLATE,96WL,CLFR,CLWL,FRAMESTAR,SSKT,LP,50CA | FrameStar 96 Well Semi-Skirted PCR Plate, Roche style, clear PP wells, clear PC frame, low profile, cut corner H12, 50 plates per case | 284.00 |
| 4ti-0951 | ASSY,PLATE,96WL,CLFR,WTWL,FRAMESTAR,SSKT,LP,50CA | FrameStar 96 Well Semi-Skirted PCR Plate, Roche style, white PP wells, clear PC frame, low profile, cut corner H12, 50 plates per case | 319.50 |
| 4ti-0952 | ASSY,PLATE/SEAL COMBI,0951/0560,FRAMESTAR,50CA | FrameStar 96 Well Semi-Skirted PCR Plate, Roche style, plus qPCR Seal, 4TI-0951 plus 4TI-0560, combi pack, 50 plates and seals per case | 497.50 |
| 4ti-0953 | ASSY,PLATE/SEAL COMBI,0950/C/0560,FRAMESTAR,50CA | FrameStar 96 Well Semi-Skirted PCR Plate, Roche style, plus qPCR Seal, 4TI-0950/C plus 4TI-0560, combi pack, 50 plates and seals per case | 459.00 |
| 4ti-0954 | ASSY,PLATE,96WL,CLFR,XWTWL,FRAMESTAR,ROCHE,50CA | FrameStar 96 Well Semi-Skirted PCR Plate, Roche style, High Sensitivity, extra white PP wells, clear PC frame, low profile, cut corner H12, 50 plates per case | 337.50 |
| 4ti-0954/0560 | ASSY,PLATE/SEAL COMBI,0954/0560,RAMESTAR,50CA | FrameStar 96 Well Semi-Skirted PCR Plate, Roche style, High Sensitivity, extra white PP wells, plus qPCR Seal, 4TI-0954 plus 4TI-0560, combi pack, 50 plates and seals per case | 517.50 |
| 4ti-0955 | ASSY,PLATE,96WL,WT,HF,SSKT,CC H12,50CA | 96 Well Semi-Skirted PCR Plate, Roche style, white PP, low profile, cut corner H12, 50 plates per case | 222.50 |
| 4ti-0955/0560 | ASSY,PLATE/SEAL COMBI,0955/0560,PCR,50CA | 96 Well Semi-Skirted PCR Plate, Roche style, plus qPCR Seal, 4TI-0955 plus 4TI-0560, combi pack, 50 plates and seals per case | 410.50 |
| 4ti-0960 | ASSY,PLATE,96WL,PPLFR,CLWL,FRAMESTAR,SKT,LP,50CA | FrameStar 96 Well Skirted PCR Plate, clear PP wells, purple PC frame, low profile, cut corner H1, 50 plates per case | 295.50 |
| 4ti-0960/B | ASSY,PLATE,96WL,BLFR,CLWL,FRAMESTAR,SKT,LP,50CA | FrameStar 96 Well Skirted PCR Plate, clear PP wells, blue PC frame, low profile, cut corner H1, 50 plates per case | 292.00 |
| 4ti-0960/G | ASSY,PLATE,96WL,GRNFR,CLWL,FRAMESTAR,SKT,LP,50CA | FrameStar 96 Well Skirted PCR Plate, clear PP wells, green PC frame, low profile, cut corner H1, 50 plates per case | 292.00 |
| 4ti-0960/R | ASSY,PLATE,96WL,RDFR,CLWL,FRAMESTAR,SKT,LP,50CA | FrameStar 96 Well Skirted PCR Plate, clear PP wells, red PC frame, low profile, cut corner H1, 50 plates per case | 292.00 |
| 4ti-0960/X | ASSY,PLATE,96WL,BLKFR,CLWL,FRAMESTAR,SKT,LP,50CA | FrameStar 96 Well Skirted PCR Plate, clear PP wells, black PC frame, low profile, cut corner H1, 50 plates per case | 292.00 |
| 4ti-0960/W | ASSY,PLATE,96WL,WTFR,CLWL,FRAMESTAR,SKT,LP,50CA | FrameStar 96 Well Skirted PCR Plate, clear PP wells, white PC frame, low profile, cut corner H1, 50 plates per case | 292.00 |
| 4ti-0960/C | ASSY,PLATE,96WL,CLFR,CLWL,FRAMESTAR,SKT,LP,50CA | FrameStar 96 Well Skirted PCR Plate, clear PP wells, clear PC frame, low profile, cut corner H1, 50 plates per case | 284.00 |
| 4ti-0960/RIG | ASSY,PLATE,96WL,BLKFR,CLWL,FRAMESTAR,SKT,LP,RIG,50 | FrameStar 96 Well Skirted PCR Plate, clear PP wells, black PC frame, extra rigid, low profile, cut corner H1, 50 plates per case | 295.50 |
| 4ti-LB0960/RIG | ASSY,PLATE,96WL,PPLFR,CLWL,FRAMESTAR,SKT,LP,LB,50 | FrameStar 96 Well Skirted PCR Plate, clear PP wells, black PC frame, extra rigid, low binding, low profile, cut corner H1, 50 plates per case | 332.00 |
| 4ti-OX960/C/SBC | PLATE,96WL,CLFR,CLWL,PATNO,FRAMESTAR,SKT,LP,OX,SBC | FrameStar 96 Well Semi-Skirted PCR Plate, clear PP wells, clear PC frame, with upstand, ethylene oxide treated, single barcoded, low profile, cut corner H1, 20 plates per case | 179.00 |
| 4ti-0960/RA | ASSY,PLATE,96WL,WTFR,CLWL,GFPOLYC,RA,SKT,LP,50CA | Individual Access 96 Well Skirted PCR Plate, clear PP wells, white rigid PC frame, individually removable wells, low profile, cut corner H1, 50 plates per case | 404.50 |
| 4ti-0960/RA-F | ASSY,FRAME,96WL,WT,HF,GFPOLYC,RA,SKT,10CA | Individual Access 96 Well Skirted PCR Plate Frame, for individually removable wells, white rigid PC frame, cut corner H1, 10 frames per case | 49.50 |
| 4ti-0961 | ASSY,PLATE,96WL,BLKFR,WTWL,FRAMESTAR,SKT,LP,50CA | FrameStar 96 Well Skirted PCR Plate, white PP wells, black PC frame, low profile, cut corner H1, 50 plates per case | 319.50 |
| 4ti-0961/C | ASSY,PLATE,96WL,CLFR,WTWL,FRAMESTAR,SKT,LP,50CA | FrameStar 96 Well Skirted PCR Plate, white PP wells, clear PC frame, low profile, cut corner H1, 50 plates per case | 319.50 |
| 4ti-0966 | ASSY,PLATE,96WL,BLKFR,BLKWL,FRAMESTAR,SKT,LP,50CA | FrameStar 96 Well Skirted PCR Plate, black PP wells, black PC frame, low profile, cut corner H1, 50 plates per case | 377.50 |
| 4ti-0970 | ASSY,PLATE,96WL,CLFR,CLWL,FRAMESTAR,SKT,FB,50CA | FrameStar 96 Well Skirted Optical Bottom PCR Plate, clear PP wells, clear PC frame, low profile, cut corner H1, 50 plates per case | 350.50 |
| 4ti-0970/RA | ASSY,PLATE,96WL,BLKFR,CLWL,RA,SKT,FB,RIG,50CA | Individual Access 96 Well Skirted Optical Bottom PCR Plate, clear PP wells, black PC frame, individually removable wells, low profile, cut corner H1, 50 plates per case | 350.50 |
| 4ti-0970/RA-F | ASSY,FRAME,96WL,BLK,HF,GFPOLYC,RA,SKT,10CA | Individual Access 96 Well Skirted PCR Plate Frame, for individually removable wells, black rigid PC frame, cut corner H1, 10 frames per case | 49.50 |
| 4ti-0975/RA | ASSY,PLATE,96WL,WTFR,CLWL,RA,RIGSKT,FB,2D,SBC,50CA | Individual Access 96 Well Skirted Flat Bottom PCR Plate, clear PP wells, white PC frame, individually removable wells, 2D coded, low profile, cut corner H1, 50 plates per case | 885.00 |
| 4ti-1000/P | ASSY,PLATE,96WL,PPLFR,CLWL,FRAMESTAR,BAW,50CA | FrameStar 96 Well Semi-Skirted PCR Plate, clear PP wells, purple PC frame, breakable vertically, high profile, cut corner A12, 50 plates per case | 295.50 |
| 4ti-1000/B | ASSY,PLATE,96WL,BLFR,CLWL,FRAMESTAR,BAW,50CA | FrameStar 96 Well Semi-Skirted PCR Plate, clear PP wells, blue PC frame, breakable vertically, high profile, cut corner A12, 50 plates per case | 293.00 |
| 4ti-1000/G | ASSY,PLATE,96WL,GRNFR,CLWL,FRAMESTAR,BAW,50CA | FrameStar 96 Well Semi-Skirted PCR Plate, clear PP wells, green PC frame, breakable vertically, high profile, cut corner A12, 50 plates per case | 293.00 |
| 4ti-1000/R | ASSY,PLATE,96WL,RDFR,CLWL,FRAMESTAR,BAW,50CA | FrameStar 96 Well Semi-Skirted PCR Plate, clear PP wells, red PC frame, breakable vertically, high profile, cut corner A12, 50 plates per case | 293.00 |
| 4ti-1000/X | ASSY,PLATE,96WL,BLKFR,CLWL,FRAMESTAR,BAW,50CA | FrameStar 96 Well Semi-Skirted PCR Plate, clear PP wells, black PC frame, breakable vertically, high profile, cut corner A12, 50 plates per case | 293.00 |
| 4ti-1000/C | ASSY,PLATE,96WL,CLFR,CLWL,FRAMESTAR,BAW,50CA | FrameStar 96 Well Semi-Skirted PCR Plate, clear PP wells, clear PC frame, breakable vertically, high profile, cut corner A12, 50 plates per case | 293.00 |
| 4ti-1000/W | ASSY,PLATE,96WL,WTFR,CLWL,FRAMESTAR,BAW,50CA | FrameStar 96 Well Semi-Skirted PCR Plate, clear PP wells, white PC frame, breakable vertically, high profile, cut corner A12, 50 plates per case | 293.00 |
| 4ti-1001 | ASSY,PLATE,96WL,BLKFR,WTWL,FRAMESTAR,BAW,50CA | FrameStar 96 Well Semi-Skirted PCR Plate, white PP wells, black PC frame, breakable vertically, high profile, cut corner A12, 50 plates per case | 330.00 |
| 4ti-1200/P | ASSY,PLATE,96WL,PPLFR,CLWL,FRAMESTAR,BAW,LP,50CA | FrameStar 96 Well Semi-Skirted PCR Plate, clear PP wells, purple PC frame, breakable vertically, low profile, cut corner A12, 50 plates per case | 295.50 |
| 4ti-1200/B | ASSY,PLATE,96WL,BLFR,CLWL,FRAMESTAR,BAW,LP,50CA | FrameStar 96 Well Semi-Skirted PCR Plate, clear PP wells, blue PC frame, breakable vertically, low profile, cut corner A12, 50 plates per case | 293.00 |
| 4ti-1200/G | ASSY,PLATE,96WL,GRNFR,CLWL,FRAMESTAR,BAW,LP,50CA | FrameStar 96 Well Semi-Skirted PCR Plate, clear PP wells, green PC frame, breakable vertically, low profile, cut corner A12, 50 plates per case | 293.00 |
| 4ti-1200/R | ASSY,PLATE,96WL,RDFR,CLWL,FRAMESTAR,BAW,LP,50CA | FrameStar 96 Well Semi-Skirted PCR Plate, clear PP wells, red PC frame, breakable vertically, low profile, cut corner A12, 50 plates per case | 293.00 |
| 4ti-1200/X | ASSY,PLATE,96WL,BLKFR,CLWL,FRAMESTAR,BAW,LP,50CA | FrameStar 96 Well Semi-Skirted PCR Plate, clear PP wells, black PC frame, breakable vertically, low profile, cut corner A12, 50 plates per case | 293.00 |
| 4ti-1200/C | ASSY,PLATE,96WL,CLFR,CLWL,FRAMESTAR,BAW,LP,50CA | FrameStar 96 Well Semi-Skirted PCR Plate, clear PP wells, clear PC frame, breakable vertically, low profile, cut corner A12, 50 plates per case | 293.00 |
| 4ti-1200/W | ASSY,PLATE,96WL,WTFR,CLWL,FRAMESTAR,BAW,LP,50CA | FrameStar 96 Well Semi-Skirted PCR Plate, clear PP wells, white PC frame, breakable vertically, low profile, cut corner A12, 50 plates per case | 293.00 |
| 4ti-1201 | ASSY,PLATE,96WL,BLKFR,WTWL,FRAMESTAR,BAW,LP,50CA | FrameStar 96 Well Semi-Skirted PCR Plate, white PP wells, black PC frame, breakable vertically, low profile, cut corner A12, 50 plates per case | 330.00 |
| 4ti-1300/X | ASSY,PLATE,96WL,BLKFR,CLWL,FRAMESTAR,B2W,50CA | FrameStar 96 Well Semi-Skirted PCR Plate, clear PP wells, black PC frame, breakable vertically and horizontally, high profile, cut corner A12, 50 plates per case | 295.50 |
| 4ti-1400/X | ASSY,PLATE,96WL,BLKFR,CLWL,FRAMESTAR,B2W,LP,50CA | FrameStar 96 Well Semi-skirted PCR Plate, clear PP wells, black PC frame, breakable vertically and horizontally, low profile, cut corner A12, 50 plates per case | 295.50 |