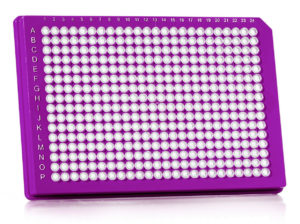 BASIC is an official representative of 4titude Consumables.
FrameStar® 384 Well Plates are designed for high-throughput PCR. They are compatible with the majority of 384 well block PCR, qPCR and sequencing instruments, and the rigid 2-component design eliminates warping and distortion during PCR making it ideal for use with robotic systems.
The skirt allows for labelling or barcoding.
FrameStar® PCR plates are covered by one or more of the following U.S. patents or their foreign counterparts, owned by Eppendorf AG: US patent Nos. 7,347,977 and 6,340,589
| | | | | |
| --- | --- | --- | --- | --- |
| Product Code | Product Name | Product Marketing Description | Items/Case | 2022 List |
| 4ti-0380/C | FrameStar® 384 Well Skirted PCR Plate, Roche LC480 | Clear PP wells, clear PC frame, cut corner A24/P24 | 50 plates | 259.00 |
| 4ti-0381 | FrameStar® 384 Well Skirted PCR Plate, Roche LC480 | White PP wells, clear PC frame, cut corner A24/P24 | 50 plates | 291.50 |
| 4ti-0382 | FrameStar® 384 Well Skirted PCR Plate, Roche Style, Plus qPCR Seal | FrameStar® Plates (4ti-0381) qPCR Seal (4ti-0560), combi pack | 50 plates + seals | 452.00 |
| 4ti-0383 | FrameStar® 384 Well Skirted PCR Plate, Roche Style, Plus qPCR Seal | FrameStar® Plates (4ti-0380/C) + qPCR Seal (4ti-0560) | 50 plates + seals | 417.00 |
| 4ti-0384 | FrameStar® 384 Well Skirted PCR Plate | Clear PPwells, purple PC frame, ccorner A24, std thermal cyclers | 50 plates | 269.50 |
| 4ti-0384/B | FrameStar® 384 Well Skirted PCR Plate | Clear PP wells, blue PC frame, ccorner A24, std thermal cyclers | 50 plates | 264.50 |
| 4ti-0384/G | FrameStar® 384 Well Skirted PCR Plate | Clear PP wells, green PC frame, ccorner A24, std thermal cyclers | 50 plates | 264.50 |
| 4ti-0384/R | FrameStar® 384 Well Skirted PCR Plate | Clear PP wells, red PC frame, ccorner A24, STD thermal cyclers | 50 plates | 264.50 |
| 4ti-0384/X | FrameStar® 384 Well Skirted PCR Plate | Clear PP wells, black PCframe, ccorner A24, STD thermal cyclers | 50 plates | 264.50 |
| 4ti-0384/C | FrameStar® 384 Well Skirted PCR Plate | Clear PP wells, clear PC frame, ccorner A24, STD thermal cyclers | 50 plates | 259.00 |
| 4ti-0385 | FrameStar® 384 Well Skirted PCR Plate | White PP wells, black PC frame, ccorner A24, STD thermal cyclers | 50 plates | 289.50 |
| 4ti-0386 | FrameStar® 384 Well Skirted PCR Plate | Black PP wells, black PC frame, ccorner A24, STD thermal cyclers | 50 plates | 343.50 |
| 4ti-0387 | FrameStar® 384 Well Skirted PCR Plate | Frosted PP wells clear PC frame ccorner A24 STD thermal cyclers | 50 plates | 264.50 |
| 4ti-1384 | 384 Well Skirted PCR Plate | Clear PP, ccorner A24, STD thermal cyclers | 50 plates | 204.00 |
| 4ti-1387 | 384 Well Skirted PCR Plate | Frosted PP, ccorner A24, STD thermal cyclers | 50 plates | 208.00 |
| 4ti-1385 | 384 Well Skirted PCR Plate | White PP ccorner A24, STD thermal cyclers | 50 plates | 208.00 |
| 4ti-1381 | 384 Well Skirted PCR Plate, Roche Style | White PP, ccorner A24/P24, Roche LightCycler® 480 | 50 plates | 208.00 |