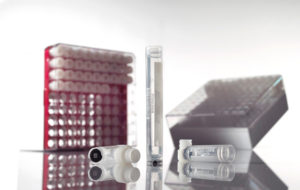 BASIC is an official representative of 4titude Consumables.
4titude® has been offering sealing solutions suitable for cryostorage for many years, and has expanded this range to include dedicated cryotubes, cryoracks and a specialized stem cells freezing system.
Our cryotube range is focused on customers with a need for reliable and detailed sample tracking. Both the cryotubes and the cryoracks are double barcoded with linear barcode (code 128), 2D codes and human readable information to avoid sample errors.
FrameStar® PCR plates are covered by one or more of the following U.S. patents or their foreign counterparts, owned by Eppendorf AG: US patent Nos. 7,347,977 and 6,340,589
| | | | | | |
| --- | --- | --- | --- | --- | --- |
| Product Code | Product Name | Description | Items/Case | 2019 List | Unit Cost |
| 4ti-4010 | 2 ml Cryotube, External Cap | Self standing tube, double barcoded (bottom: 2D code, side: linear barcode 128) | 500 | 0.00 | 0.00 |
| 4ti-4011 | 5 ml Cryotube, External Cap | Self standing tube, double barcoded (bottom: 2D code, side: linear barcode 128) | 500 | 0.00 | 0.00 |
| 4ti-4020 | 2 ml Cryotube, Internal Cap | Self standing tube, double barcoded (bottom: 2D code, side: linear barcode 128) | 500 | 0.00 | 0.00 |
| 4ti-4021 | 5 ml Cryotube, Internal Cap | Self standing tube, double barcoded (bottom: 2D code, side: linear barcode 128) | 500 | 0.00 | 0.00 |
| 4ti-4030/B | Cryorack, For 2 ml Tubes | Double barcoded (bottom: 2D code, side: linear barcode 128), 81 places, blue | 5 | 0.00 | 0.00 |
| 4ti-4030/Y | Cryorack, For 2 ml Tubes | Double barcoded (bottom: 2D code, side: linear barcode 128), 81 places, yellow | 5 | 0.00 | 0.00 |
| 4ti-4030/R | Cryorack, For 2 ml Tubes | Double barcoded (bottom: 2D code, side: linear barcode 128), 81 places, red | 5 | 0.00 | 0.00 |
| 4ti-4030/G | Cryorack, For 2 ml Tubes | Double barcoded (bottom: 2D code, side: linear barcode 128), 81 places, green | 5 | 0.00 | 0.00 |
| 4ti-4031/B | Cryorack, For 5 ml Tubes | Double barcoded (bottom: 2D code, side: linear barcode 128), 81 places, blue | 5 | 0.00 | 0.00 |
| 4ti-4031/Y | Cryorack, For 5 ml Tubes | Double barcoded (bottom: 2D code, side: linear barcode 128), 81 places, yellow | 5 | 0.00 | 0.00 |
| 4ti-4031/R | Cryorack, For 5 ml Tubes | Double barcoded (bottom: 2D code, side: linear barcode 128), 81 places, red | 5 | 0.00 | 0.00 |
| 4ti-4031/G | Cryorack, For 5 ml Tubes | Double barcoded (bottom: 2D code, side: linear barcode 128), 81 places, green | 5 | 0.00 | 0.00 |
| 4ti-4040 | Wilmut 96 x 0.65 mL Tubes In SBS Rack | 2D code on base, linear code on rack | 20 | 1,349.60 | 67.48 |