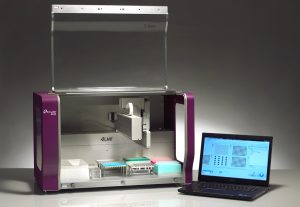 FrameStar® PCR plates are covered by one or more of the following U.S. patents or their foreign counterparts, owned by Eppendorf AG: US patent Nos. 7,347,977 and 6,340,589.
The 4titude 4Lab is an:
Automated, high precision pipetting system specifically designed for low volume PCR/QPCR sample preparation.
Accuracy, precision, and consistency is guaranteed and reagent waste is reduced.
PC software can be masterd in an hour. No trained technician required.
Built-in PCR/QPCR set up protocols can be quickly modified and transferred via USB memory stick.
| | | | | | |
| --- | --- | --- | --- | --- | --- |
| Product Code | Product Name | Description | Items/Case | 2019 List | Unit Cost |
| 4ti-2000 | 4LAB™ Pipetting Station 4+2 Positions | With software and notebook | 1 unit | 29,933.60 | 29,933.60 |
| 4ti-2002 | 4LAB™ Pipetting Station 4 Positions, UV/HEPA | With UV lamp and HEPA filters, with software and notebook | 1 unit | 34,467.20 | 34,467.20 |
| 4ti-2003 | 4LAB™ Pipetting Station 4 positions, UV/HEPA, Cooling/Heating | With UV lamp and HEPA filters, with active cooling/heating capabilities, with software and notebook | 1 unit | 54,421.60 | 54,421.60 |
| 4ti-2010 | 4LAB™ Pipetting Module, 50 μl Single Channel | | 1 module | 2,538.40 | 2,538.40 |
| 4ti-2020 | 4LAB™ Pipetting Module, 50 μl 8-Channel | | 1 module | 3,267.20 | 3,267.20 |
| 4ti-2030 | 4LAB™ Pipetting Module, 200 μl Single Channel | | 1 module | 2,538.40 | 2,538.40 |
| 4ti-2040 | 4LAB™ Pipetting Module, 200 μl 8-Channel | | 1 module | 3,267.20 | 3,267.20 |
| 4ti-2051 | 4LAB™ 96 Tip Rack Adapter | | 1 adapter | 221.60 | 221.60 |
| 4ti-2052 | 4LAB™ Elevated 96 Well Plate Adapter | | 1 adapter | 328.80 | 328.80 |
| 4ti-2053 | 4LAB™ Elevated 384 Well Plate Adapter | | 1 adapter | 259.20 | 259.20 |
| 4ti-2054 | 4LAB™ Adapter for 1.5 ml Tubes (4 x 2) | | 1 adapter | 259.20 | 259.20 |
| 4ti-2055 | 4LAB™ Adapter for 2 ml (4 x 2) and 5 ml (1) Tubes | | 1 adapter | 328.80 | 328.80 |
| 4ti-2056 | 4LAB™ Cooling Block for 96 Well PCR Plates | | 1 block | 836.00 | 836.00 |
| 4ti-2057 | 4LAB™ Cooling Block for 384 Well PCR Plates | | 1 block | 1,199.20 | 1,199.20 |
| 4ti-2058 | 4LAB™ Cooling Block for 1.5 ml Tubes (4 x 2) | | 1 block | 400.00 | 400.00 |
| 4ti-2059 | 4LAB™ Cooling Block for 2 ml (4 x 2) and 5 ml (1) Tubes | | 1 block | 474.40 | 474.40 |
| 4ti-2060 | 4LAB™ Adapter for 20 x 1.5 ml Tubes | | 1 adapter | 546.40 | 546.40 |
| 4ti-2061 | 4LAB™ Used Tip Tray, Disposable | | 10 trays | 259.20 | 25.92 |
| 4ti-2062 | 4LAB™ Pipetting Reservoir Holder, 8-Channel | | 1 holder | 88.80 | 88.80 |
| 4ti-2063 | 4LAB™ Adapter for Deep Well Plates | | 1 adapter | 221.60 | 221.60 |
| 4ti-2064 | 4LAB™ Pipetting Reservoirs, 8-Channel, Disposable | | 20 reservoirs | 153.60 | 7.68 |
| 4ti-2065 | 4LAB™ Cooling Block for 20 x 1.5 ml Tubes | | 1 block | 1,876.80 | 1,876.80 |
| 4ti-2066 | 4LAB™ Adapter for HLA typing 96 Well Terasaki Tray | | 1 adapter | 350.40 | 350.40 |
| 4ti-2067 | 4LAB™ Adapter for HLA typing 60 and 72 Well Terasaki Tray | | 1 adapter | 350.40 | 350.40 |
| 4ti-2068 | 4LAB™ Adapter for 0.5 ml Tubes | To be used with 4LAB™ Adapter for 20 x 1.5 ml Tubes (4ti-2060) | 1 adapter | 24.00 | 24.00 |
| 4ti-2070 | 4LAB™ Adapter for 96 Well Conical Bottom PCR Plates | | 1 adapter | 432.00 | 432.00 |
| 4ti-2071 | 4LAB™ Elevated ELISA and Cell Culture Adapter | | 1 adapter | 257.60 | 257.60 |
| 4ti-2072 | 4LAB™ Illumina 48 Well Plate Adapter | | 1 adapter | 324.80 | 324.80 |
| 4ti-2073 | 4LAB™ Adapter for 3 x 8 Tube Strips | | 1 adapter | 222.40 | 222.40 |
| 4ti-2074 | 4LAB™ Adapter for 3 x 15 ml Reserviors | | 1 adapter | 132.00 | 132.00 |
| 4ti-2075 | 4LAB™ 15 ml Reservoir, Disposable | | 9 reservoirs | 153.60 | 17.07 |
| 4ti-2100 | Pipette Tips, 50 μl, Non-Sterile | | 10 x 96 tips | 144.80 | 0.15 |
| 4ti-2101 | Pipette Tips, 200 μl, Non-Sterile | | 10 x 96 tips | 144.80 | 0.15 |
| 4ti-2104 | Pipette Tips, 50 μl, Sterile With Filter | | 10 x 96 tips | 305.60 | 0.32 |
| 4ti-2105 | Pipette Tips, 200 μl, Sterile With Filter | | 10 x 96 tips | 305.60 | 0.32 |
| 4ti-2200 | 4LAB™ Pipetting Station 6+2 Positions | With software and notebook | 1 unit | 35,764.80 | 35,764.80 |
| 4ti-2210 | 4LAB™ Warranty Extension, Second Year | For 4LAB™, 12 months extension to standard warranty | 1 | 3,030.40 | 3,030.40 |
| 4ti-2211 | 4LAB™ Calibration Service, 1 Module | For 1 pipetting module | 1 | 608.00 | 608.00 |
| 4ti-2212 | 4LAB™ Calibration Service, 2 Module | For 2 pipetting modules | 1 | 910.40 | 910.40 |
| 4ti-2300 | 4LAB™ Pipetting Station 6+2 Positions, UV/HEPA | With UV lamp and HEPA filters, with software and notebook | 1 unit | 37,880.80 | 37,880.80 |
| 4ti-2303 | 4LAB™ Pipetting Station 6+2 positions, UV/HEPA, Cooling/Heating | With UV lamp and HEPA filters, with active cooling/heating capabilities, with software and notebook | 1 unit | 58,597.60 | 58,597.60 |